Three in 10 young adults live with parents, highest level since 1950s
A weak economy and high debt levels are prompting more young adults to return to the family nest, a new survey shows. Perhaps surprisingly, most are happy with their living arrangements.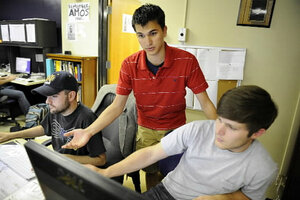 Mary Knox Merrill/The Christian Science Monitor
After graduating from Brown University in 2009 with a bachelor's degree in comparative literature and completing a Fulbright scholarship in Brazil, Cassie Owens was left with a few dollars on her stipend and no job in sight. So, Ms. Owens returned home to her mother in Philadelphia.
"I moved back home pretty much for lack of money and prospects," she says. Owens's cousin, Evon Burton, who also returned home after graduating from Morehouse College in 2009, adds, "The choice is to go out and be in debt or to pursue your dreams and save up money at home, in a safe, stable environment."
Owens and Burton are among the scores of so-called "boomerang kids," young adults who move out of the family home for school or work and then return home. Unable to find well-paying work in a weak economy, escalating numbers of young adults – as many as 3 in 10 – are returning home to the family nest, resulting in the highest share of young adults living in multigenerational households since the 1950s, according to a Pew Research Center report released Thursday.
"The rise in the boomerang phenomenon illustrates the effect the recession and the weak economy are having on young adults," says Kim Parker, a senior researcher at Pew and the author of the study. "Young adults were hit particularly hard in the job market and are having to delay reaching some basic financial milestones of adulthood because of this."
In 1980, some 11 percent of young adults lived in multigenerational households, suggesting that a strong economy helped youngsters gain independence more quickly. Today, some 29 percent of 25- to 34-year olds either never moved out of their parents' home or say they returned home in recent years because of the economy, according to the Pew report. Among 18- to 24-year olds, that figure is even higher – 53 percent of young adults in that age group live at home.
---