How MLB aims to stop steroid abuse, starting with Dominican prospects
The MLB has launched new programs to protect Dominican prospects from the lure of performance-boosting drugs. No other country has such a poor reputation for drug abuse among players.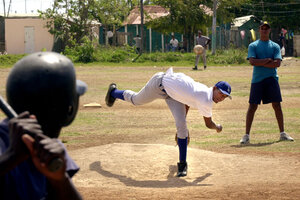 Andy Nelson/The Christian Science Monitor/File
Boca Chica, Dominican Republic
On a humid, overcast day, some of the Dominican Republic's best amateur baseball players gathered on a manicured field at a New York Mets training facility that sits off a crumbling road in Boca Chica, roughly 20 miles east of the capital, Santo Domingo.
The catcher's mitt popped with 90-mile-per-hour fastballs. Wooden bats cracked as lanky teenagers sent balls whistling into the outfield. Scouts huddled around a picnic table behind home plate.
As Ramon Jayde Antonio, age 17, wheeled his sinewy frame and took off to steal second base, a scout glanced at his stopwatch, nodded, and jotted down a few numbers.
Afterward, Ramon smiled widely: "I had two hits, stole two bases, and I think I played pretty good in the field."
But in a country where performance-enhancing drugs are widely accepted as a way to stand out, the question inevitably turns to whether he has ever taken steroids or other drugs. Quickly looking up while changing out of his cleats, he snaps: "No, because they test your blood. And if they catch you, that's it. Everybody's afraid of that."
The global expansion of Major League Baseball (MLB) has not come without consequences. While the league that once barred blacks now boasts players from 14 foreign countries or territories, the Dominican Republic serves as an example of how the lure of the game's riches can corrupt a poor country.
When, for the first time ever, MLB last year tested top Dominican amateur prospects for drug use, 13 of 40 tested positive. The league plans to test Dominicans this year with the penalty of suspensions.
---