NFL in 'chaos' after lockout ruling. What happens now?
A federal judge's ruling to lift the lockout prompted a flurry of legal action and lots of confusion as players reported to empty practice facilities Tuesday. What it means for NFL football could become clearer in the days ahead, but for now, the league is in 'uncharted territory.'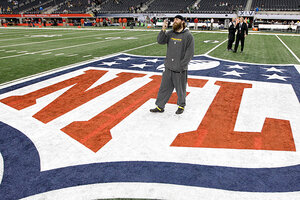 David J. Phillip/AP/file
In the words of one legal expert, the National Football League has now entered "Bizarro World."
It is there because federal judge Susan Nelson on Monday issued an injunction against the NFL lockout – essentially saying that the owners cannot prevent their players from reporting to work and, it seems, playing football. The full ramifications of Judge Nelson's ruling are not yet plain. Further legal actions in her court and beyond in the coming days and weeks could add a measure of clarity to the question of what this all means for pro football in 2011.
But what is clear is that the NFL now faces an unprecedented level of uncertainty.
On Tuesday, players returned to their training facilities only to find empty hallways and orders to not work the weights – a situation NFL Players Association Executive Director DeMaurice Smith called "chaos." In an opinion article for The Wall Street Journal, Commissioner Roger Goodell countered that the ruling could "alter professional football as we know it."
Allowing football players to play without a union (which was disbanded when talks broke down) or a collective-bargaining agreement (which expired last month) would lead to league anarchy, he wrote: All players would become "independent contractors" with the power to dismantle league-wide arrangements like free agency, salary caps, and even the draft.
---