MLB, players take lead on drug testing. Will NFL players follow?
Major League Baseball announced an agreement with the players' union to start in-season random drug testing, including for human growth hormone. NFL players have delayed implementation of a 2011 agreement.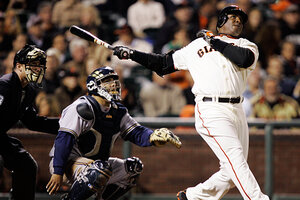 Marcio Jose Sanchez/AP/File
After years of serving as Exhibit A in a national debate over professional athletes' use of performance enhancing drugs (PEDs), specifically human growth hormone, Major League Baseball on Thursday announced its plan to eradicate the practice from the professional diamond.
The announcement of an agreement between owners and the players' union to start random, unannounced testing of players during the 162-game 2013 season came a day after national baseball writers declined for the first time since 1996 to select anyone to the Baseball Hall of Fame, at least in part because some of the major names – including Roger Clemens, Barry Bonds, and Sammy Sosa – have faced serious doping allegations.
While there may not be a direct causation between the Hall of Fame vote and the agreement between teams and players, the two developments are linked in the minds of many sportswriters and fans, primarily because they focus on the role of players in solving the PED problem.
"The gray area is vast, and covered in muck, and there is no question some who secretly juiced eventually will pass through the gates of Cooperstown while others are barred on circumstantial evidence," writes CBS Sports correspondent Jon Heyman, capturing a public sentiment.
---