Haiti relief work in high gear as rescue teams work round the clock
Haiti relief work teams from Brazil, the Philippines, France, the US, and elsewhere are rushing to reach victims of the 7.0 magnitude quake that struck Port-au-Prince on Jan. 12.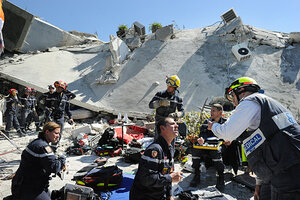 Mary Knox Merrill / The Christian Science Monitor
Two French rescue workers are burrowed in a hole barely bigger than their bodies, methodically and tirelessly using picks, small shovels, and their hands to dig out victims they believe are buried in the remains of a hotel in Port-au-Prince.
"Hello? Hello? Can you hear me?" Benjamin Seewald calls out in French, trying to communicate with anyone who still might be below.
Silence. But the two men continue. So far, at least eight people have been rescued from here, as US, French, Chilean, Spanish, and Filipino paramedics, firefighters, doctors, and engineers scramble to rescue those still alive.
The city of Port-Au-Prince is in a mad rush to reach victims after a 7.0 magnitude earthquake struck this capital, burying entire parts of the city. The next day will be critical, as hydration becomes a life-threatening issue. But rescue workers are not giving up.
"These miracles do happen," says Mark Stone, a member of the US Search & Rescue team from Fairfax, Va., here with USAID. "And it is that one in a million that makes us get up in the morning."
---