Back in Haiti, is Aristide eyeing presidency?
Thousands welcomed former President Jean-Bertrand Aristide's arrival today in Haiti, less than 48 hours before a presidential election. The timing of his return potentially qualifies him to run in the next election.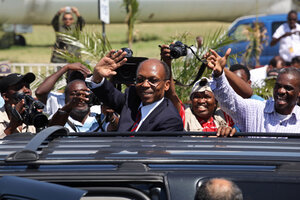 Alexandre Meneghini/AP
Port-au-Prince, Haiti, and Santo Domingo, Dominican Republic
After seven years in exile, former President Jean-Bertrand Aristide today returned to Haiti and vowed to dedicate himself to his nation's health and education even amid fears that his presence will disrupt Sunday's election.
"My role is to serve you in love," the former priest said during remarks in which he switched between a handful of languages, including Creole and Zulu, the language of South Africa where he has lived in exile since a 2004 ouster.
Aristide, who became Haiti's first democratically elected president on a groundswell of support from the poor in 1990, remains a popular a political figure in Haiti. While he says he has no plans to reenter politics, the timing of his return would potentially qualify him to run for president in the next election under Haiti's residency rules, which say a candidate must reside in Haiti for the five years before the election.
"Aristide cannot return to Haiti without having a politically significant presence," says Ericq Pierre, a senior counselor for the Inter-American Development Bank in Haiti. "Politically he should be dead after two coup d'états. But now he looks stronger than ever."
Defying US
Aristide arrived to hordes of journalists and a few thousand cheering supporters. His wife, Mildred, who wept as she deplaned, actor and political activist Danny Glover, and a few others accompanied Aristide on the overnight flight from Johannesburg.
"This country needs education with dignity without social exclusion. The solution is inclusion," he said Friday.
---