Spread of drone programs in Latin America sparks calls for code of conduct
At least nine Latin American nations are developing drone programs, raising calls for a code of conduct that will assuage concerns over potential misuse.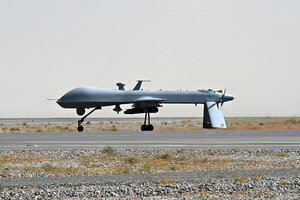 Massoud Hossaini/AFP/Pool/Newscom
Mexico City and Rio de Janeiro
In December, a UFO landed near Reyna Hinojos's house on Craddock Avenue, in an El Paso, Texas, neighborhood separated from Mexico by the Rio Grande. Her startled neighbors dragged the aircraft into their front yard and called the police, who identified the object: an Israeli-built unmanned aerial vehicle (UAV) operated by the Mexican government to monitor drug trafficking and human smuggling.
The small drone had landed safely, says Ramiro Cordero, an agent with US Customs and Border Protection. It was promptly loaded into a police pickup truck and returned to Mexican authorities.
Ms. Hinojos was unsurprised by the incident, since her border town constantly swarms with surveillance vehicles such as helicopters – one of which crashed a few years ago.
"They might have their dangers," she says of drones, "but I feel safer knowing they're out there."
RELATED: The world in 2011: Trends and events to watch in every region
---