Is Japan losing its cool?
Manga, anime, J-pop – once it was all about Japan. But the country's efforts to channel its 'cool' as part of a global soft power strategy may need a revamp amid intense competition from Korea.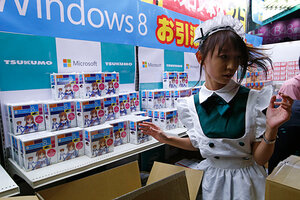 Toru Hanai/Reuters
It's been 50 years since Kyu Sakamoto's "Sukiyaki Song" became a worldwide smash. The only other Asian artist to replicate the feat? Psy, from rival South Korea, with his viral hit "Gangnam Style."
Even as Korean tech giant Samsung turns Sony into a has-been, Japan's erstwhile colony is also beating it in the pop culture sphere: A decade after journalist Douglas McGray famously calculated "Japan's Gross National Cool" and awoke the country to the potential of capitalizing on the global infatuation with its anime, games, J-pop, and manga, the concept of "Cool Japan" is under assault.
Artists whose work drove the trend are distancing themselves from the commercialized moniker. "Dear ad agencies and bureaucrats," tweeted renowned artist Takashi Murakami earlier this year. "Please stop inviting me to 'Cool Japan' events.... I have absolutely no link to 'Cool Japan.' "
But others say a more nuanced drive to deploy Japan's national cool as "soft power" could help heal the wounds of its devastating 2011 tsunami, smooth the creation of a postindustrial economy, and even boost Japan's manufacturers at a time when the country is competing with neighboring South Korea and China over everything from electronics to islands in the seas separating them.
---