The future that young Russians want
The Putin generation is often worldly, optimistic, and enthusiastic about democracy – as they define it.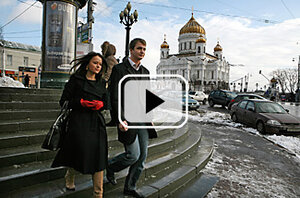 Melanie Stetson Freeman - staff
Dressed in stylish shoes and a sharp suit, Kirill Shchitov strides to work every morning with an eye on the Kremlin looming ahead on the skyline. It's a tantalizing reminder of his ultimate goal: the top job within its imposing walls.
That's a long shot, he concedes with a shy smile in his room, a poster of Charlie Chaplin looking over his shoulder. But at 22, Mr. Shchitov is already a rising star in President Vladimir Putin's United Russia party. Last year, as public relations chief for the party's youth wing in Moscow, he helped organize 50-plus events – including a Red Square rally of 15,000 to promote the party's young candidates, nearly a dozen of whom were elected to parliament.
Born amid the fervor of Mikhail Gorbachev's economic and social reforms, Shchitov's generation was expected by liberals to build on Mr. Gorbachev's effort. Instead, they have thrown their weight behind a man seen as rolling back democratic reforms in the name of a more stable, prosperous, and powerful Russia. In Sunday's polls, young Russians – 92 percent of whom approve of Mr. Putin – are likely to join Shchitov in endorsing their leader's eight-year tenure by electing his handpicked successor.
---