Russians' political apathy frustrates feisty young journalist
Anastasia Chukovskaya sees a desire for stability that comes at the expense of freedoms.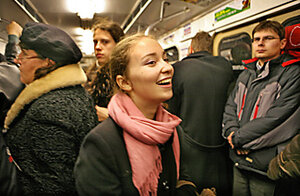 Melanie Stetson Freeman – Staff
As a first-year journalism student, Anastasia Chukovskaya envisioned herself peering down Russia's dark alleys, scratching out truth on a flimsy notebook. An intern with the BBC, she looked up to veteran Russian reporters like Anna Politkovskaya, renowned for exposing human rights abuses.
Then, in 2006, Ms. Politkovskaya was shot in an apparent contract killing. Deeply affected, Ms. Chukovskaya quit political journalism and took a job with Elle magazine, which features her latest story: Russians volunteering for charity.
"People here do not need my truth," says Chukovskaya. "Why should I risk my life when they don't care?"
Working full time while she finishes her degree, Chukovskaya is surrounded by peers who, she says, talk about kids, stars, love, fashion – everything but politics. To her, it's a sign that the traditional Russian preference for a paternalistic – if not autocratic – state has reasserted itself after what many Russians see as the dismal experiment with liberal democracy in the 1990s. But in contrast to many of her generation, the young journalist energetically refuses to settle for a stability that, she argues, comes at the expense of freedom.
---