Amanda Knox: Parents of imprisoned American student indicted for slander
Amanda Knox's parents will stand trial in Italy on slander charges for alleging that police abused their daughter during interrogation. Amanda Knox has also been indicted for slandering Italian police.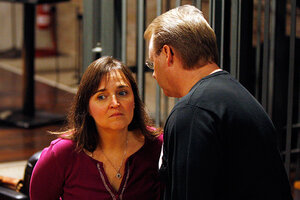 Luca Bruno/AP/File
The parents of Amanda Knox, the American college student who was convicted of murdering her British roommate in Italy, have been ordered to stand trial on allegations they slandered Italian police by claiming officers slapped and intimidated their daughter during questioning.
It's the latest twist in a real-life murder mystery that has spawned six books, inspired two films, and attracted huge attention on both sides of the Atlantic.
In setting the trial for July 4, an examining magistrate upheld a request from Italian police that Curt Knox and Edda Mellas be charged with slander.
The trial-within-a-trial is another burden for Mr. Knox and Ms. Mellas. They have spent the past three years shuttling between the US and Italy to provide moral support to their daughter, convinced that she is innocent of killing former roommate Meredith Kercher.
The root of the slander case dates back to 2008, when Knox and Mellas gave an interview to The Sunday Times of London in which they alleged that Italian police had physically and verbally abused their daughter when she was interrogated about the murder a few days after Ms. Kercher was found dead.
In the interview, Curt Knox said Amanda told him that officers cuffed her around the head, threatened her with a lengthy prison sentence, and said she would never see her family again.
---