PepsiCo's i-crop system could save farmers precious water
(Read article summary)
I-crop, a web-based program now undergoing tests, helps farmers reduce water waste by combining weather data and underground probes.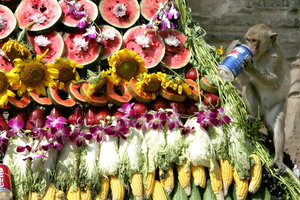 Sukree Sukplang/File/Reuters
"More Bounce to the Ounce." In the 1950s, it was a cola slogan; thanks to a new partnership with Cambridge University, it could become the catch phrase of PepsiCo's i-crop, a web-based program that helps farmers reduce water waste.
Here's how it works: Data systems collect information on local weather conditions, farming activity, and soil moisture from underground probes and compiles them online. With a few keystrokes, farmers can eliminate the guessing games about water consumption, resulting in more precise and environmentally friendly farming.
In October, PepsiCo publicly announced its goal of reducing carbon emissions and water usage from their largest UK farms by 50 percent in five years. So far i-crop is testing well: Preliminary reports from 22 farms in the UK show farmers have achieved 90 percent efficiency in water usage.
"Farming is in the DNA of our business – we rely on fresh produce everyday," said Richard Evans, president of PepsiCo UK and Ireland, according to PR Newswire. "Finding ways to produce more food with less environmental impact is essential to our future." He added, "i-crop has the potential to revolutionize the way we farm, enabling our farmers to save costs and [reduce] water and carbon consumption, while at the same time improving their yields."
---
Follow Stories Like This
Get the Monitor stories you care about delivered to your inbox.