World Water Day: Thirsty Gaza residents battle salt, sewage
Untreated pools of sewage, some as large as 100 acres, seep back into the sole aquifer that provides freshwater for Gaza's 1.5 million people. Aid workers are looking at new ways to replenish the aquifer, this World Water Day.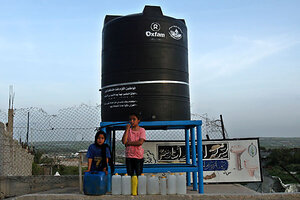 Adel Hana/AP/File
Activists around the world are marking World Water Day today with school campaigns, films, and concerts – all designed to draw attention to the fact that access to safe drinking water is something 1 in 5 people don't enjoy, while 40 percent of the world's population doesn't have adequate sanitation.
An acute example of the human cost can be found in the densely populated Gaza Strip, where experts say a potent mix of politics and geography are pointing toward the onset of a full-blown water crisis. In the small coastal territory, resources are either scarce or contaminated, sewage goes largely untreated, and already ailing infrastructure buckles under an Israeli economic blockade in place since Hamas took over in 2007. According to the United Nations (UN), the current environmental damage could "take centuries to reverse."
"If the situation continues like this any longer, we'll be faced with a very serious water crisis in the Gaza Strip," Stéphane Beytrison, the head of the International Committee of the Red Cross (ICRC) in Gaza, told the Monitor recently. "And any real efforts at developing the water and sanitation system, whether by the local authorities or by aid agencies, are hampered completely by the closure. It's a real and very crucial problem."
Sewage seeping into key aquifer
---
Follow Stories Like This
Get the Monitor stories you care about delivered to your inbox.