The Eat, Pray, Love effect: Can my family leave it all behind?
Part 7 of a Monitor cover story: Families and travel experts explain how to leave it all behind when the Eat, Pray, Love effect hits.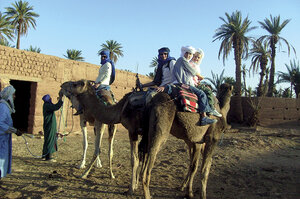 Courtesy of the Andrews family
This Q&A is the last of a seven-part Monitor look at several famillies who have been hit by the Eat Pray Love effect – pulling up family stakes to leave it all behind and embark on extended global travel.
Can you safely leave your job to travel?
If you have desirable skills and experience, you should be able to find something else if your company can't hold your job for you, says Steven Miranda of the Society for Human Resource Management. If your skills are average and you aren't viewed as indispensable, he says, you take a huge risk walking away from that paycheck. Leaving your job to travel could also be viewed by a potential employer as reflecting a lack of commitment.
What about taking kids out of school?
Most families who leave on extended travel "road school" their kids using an established homeschool curriculum or by working out an arrangement for independent study with their child's current school. Ann and Doug Brown used the Thomas Jefferson homeschooling program. Rainer Jenss says road schooling for his kids was "90 percent field trips and 10 percent schoolwork." Dee and Scott Andrews put their kids into an international school while in Spain, then spent four months traveling and schooling their kids, carting around textbooks.
---