School lunches: Healthier with a side of mixed reviews
School lunches are changing due to new federal guidelines requiring school districts to serve more grains, fruits, and veggies. Connecticut students join the ranks of public school kids speaking out about portion sizes across the country.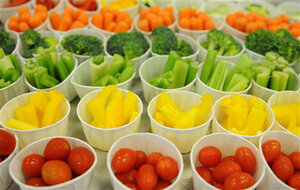 AP Photo/Reading Eagle, Lauren A. Little/File
Schools are putting more fruits and vegetables on their menus, but those healthy foods aren't necessarily ending up in students' stomachs.
"They make students take stuff they don't want and it goes straight to the garbage pan," said Kurt Thomas, head custodian at John F. Kennedy High School in Waterbury.
Samantha Decena, a Kennedy volleyball player, said she eats the mozzarella sticks and strawberry milk, but throws away her fruit, vegetables, and meat because she finds it unappetizing.
"I could eat more, but I choose not to," Ms. Decena said.
Chris Wallace, director of food services for Education Connection, the vendor that oversees the lunch programs for Torrington, Litchfield, Thomaston and New Hartford, said she has heard similar complaints.
New federal guidelines say students must take one cup of fruit or vegetables, one cup of milk, two ounces of whole grains, and two ounces of meat or other protein.
At Naugatuck High School, meals without foods from each category come at a premium. A chicken Panini with milk is $3.60, but add a fruit or vegetable to that and the price is only $3.10. Students can grab as many fruits and vegetables as they wish and there are plenty of options, so while students might not like that whole grain bread, they have no excuse to go hungry, according to Kate Murphy, general manager of food services for Naugatuck Public Schools.
While fruit and vegetable portions have become larger, the old guidelines only required half a cup, grain and protein ceilings have been lowered. Federal guidelines call for 750 to 850 calories for a high school lunch.
---