China adoption diary: Matters of trust involve a headlock on Dad
(Read article summary)
Part 9 – China adoption diary: Bonding involves trust and Dad – after a headlock and tussle – soothes Madeleine's fear of shots, while Grace comes to grips with rule-bending.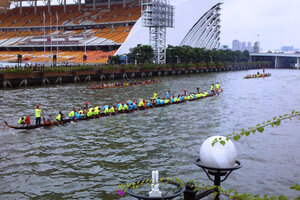 Courtesy of the Belsie family
Guangzhou. The Garden Hotel, Saturday, June 23
Part 9 of Gretchen Belsie's account of her trip with husband Laurent and their first adopted Chinese daughter – 10-year-old Grace – as they head to meet and bring home 7-year-old Madeleine Bao Yi.
Today was a banner day of highs and lows, taking us from a tuberculosis shot in the morning to more gastronomic escapism this evening at Paddy Field's Irish Pub.
At 9:30 a.m. Simon took us to the city medical clinic. By the time we arrived at the second floor waiting area, the place was filled up with other American families who have been staying at the Garden Hotel. New friendships formed as we waited for our turns.
In the first exam room, Madeleine Bao Yi chatted with the nurse attendant and was unperturbed by the ear and throat exam. For those babies who did not like that first round, assistants offered small squeak toys (shaped like bok choy) as a diversionary tactic.
During the second check, the children were given a mandatory tuberculosis shot. Once Bao Yi figured out what lay ahead, she stiffened out and grabbed hold of the doorjamb with a true death grip. It took Laurent and Simon pulling like Trojans to unclasp that hold. All the while, she was howling and crying what I like to refer to as "squirt gun tears." Then, she locked Laurent in a rear headlock like there was no tomorrow. Simon was there the whole time, trying to talk to her in Chinese and explain that the shot would be over in two seconds. She finally agreed to go through with it, but it was quite an ordeal. We have to return to the clinic in 48 hours to have the injection area checked. For the next two days, no swimming pool.
After the high times at the clinic, we took a short bus ride over to a part of the city called New Town. The skyscrapers were modern and architecturally varied, and the place felt like a section of Manhattan. We saw buildings that had been erected for the 2010 Asian Olympics and are now used for general commercial and athletic purposes. Simon also pointed out something called the Children's Palace. Though it sounds like an amusement park, in reality it is a very special and expensive weekend school for the children of the well to do. Classes are offered in piano, art, dance, and Chinese brush calligraphy.
---