Princess Sofia and Skinny Minnie: Disney characters suffer backlash
(Read article summary)
Princess Sofia, the new Latina Disney character, and Barneys' Skinny Minnie Mouse holiday advertising campaign have Disney characters under fire. Princess Sofia is touted as the first Latina Disney princess, but her light skin has proven controversial.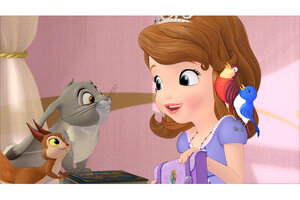 Disney Junior/AP
Updated 4:08 p.m. EST
The appearance of Disney characters is under fire again, with controversy erupting over a holiday Barneys campaign that will feature skinnier versions of beloved Disney cartoons as well as the facial features of the company's newest princess, Princess Sofia.
Barneys, the high-end New York department store, announced in August that Disney characters would be the stars of their holiday window displays, but in different incarnations than we're used to seeing them. Goofy, Daisy Duck, Minnie Mouse and others will be featured in the store's windows, but as emaciated versions of themselves, with Mickey's girlfriend Minnie in particular stretched so she's tall and willowy.
"No time like the holidays to convince a little girl that beloved Minnie, in her regular shape, is fat," the Monitor's Modern Parenthood blogger Stephanie Hanes wrote at the time. This isn't the first time traditional Disney characters have experienced controversial makeovers, either – a Venezuelan ad for plastic surgery used Ariel as a model. A model, depicting her swimming over to a table for an operation, then leaving with plumped-up lips and a larger chest.
Are you a 'Helicopter Parent?' Take our quiz!
A petition on Change.org against the Barneys campaign, titled "Barneys: Leave Minnie Mouse Alone," has gotten more than 133,000 signatures, including those of Abigail Disney, "Sideways" star Virginia Madsen, and "True Blood" actress Kristin Bauer van Straten.
---