China adoption diary: School picture day, nostalgia, and a paper clip barrette
(Read article summary)
School picture day is an American childhood rite of passage, memorializing the awkward growth spurts, braces, and in the case of Madeleine, an experimental approach to hair accessories.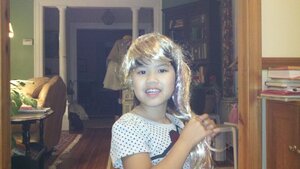 Courtesy of the Belsie family
During the month of October, our home calendar was marked in red with a special notation: School Picture Day. This semiannual rite dredged up clear memories of my own elementary school days and the importance attached to those humble photos.
RELATED: Are you a 'Helicopter Parent?' take our QUIZ!
For years, our school system used only one photographer: an independent agent named Harry MacWilliams. He was a Carl Reiner type with a booming voice, a loud plaid sport coat and a 15-cent pocket-comb that he passed down the line of children waiting their turn in front of the camera. In those days, no one gave a thought to skin allergies or head lice. About as far as we got was a mention of cooties followed by hushed snickering.
The all-class photo featured "thumbnails" of deer-in-the-headlights faces that were sometimes accented with mashed or horned hairdos. If a classmate happened to miss the picture day, a small caricature filled his thumbnail space with the corny caption "Gone Fishin'."
---