2012 Elections: Did Obama win the Battle for Mom?
(Read article summary)
2012 Elections: Winning 56 percent of voting moms, did Obama win the Battle for Mom? Only 43 percent of those moms casting ballots in the 2012 elections voted for Romney, who won the Dad vote with 53 percent of dads who went to the polls.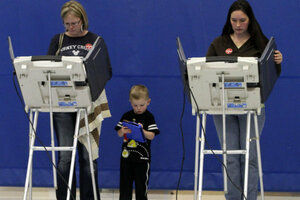 The Salt Lake Tribune/AP
Initial results in the Battle For Mom are in. And the winner, exit polls show, is President Barack Obama.
(Sound familiar?)
RELATED: Are you a helicopter parent? Take our quiz!
Yes, 56 percent of voting mothers cast their ballots in Election 2012 for Obama, according to exit poll numbers reported by Fox News, while 43 percent picked GOP contender Mitt Romney. That's about the same edge the president had among all female voters, which went 55 percent for Mr. Obama and 44 percent for Mr. Romney.
This, mind you, after a presidential campaign that put motherhood and apple pie even more front-and-center than usual. I mean, we even got the Mommy Wars involved, if you can think way back to some comments Democratic strategist Hilary Rosen made in April about stay-at-home moms.
---