Orioles mom: There's no princess in baseball, OK?
(Read article summary)
Princess culture has taken over American girlhood. But at a baseball game? The American League Division Series opener, no less? One mom draws the line.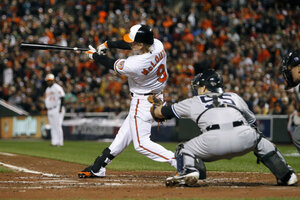 Reuters
Maybe this is just long weekend grumpiness here. Or maybe I'm still bitter over last night's American League Division Series game between my beloved Orioles and the New York Yankees.
But waking up this morning, after jetting from Massachusetts to Baltimore so we could participate in the first Orioles post-season game in forever, only to sit through hours of rain delay, eight nail-biting innings, 40-degree weather and then a depressing last inning collapse by my Birds, there's something bugging me more than even another Evil Empire victory.
It happened in one of the concession stands. Husband and I had gone there to get a T-shirt for Baby M. You know, consumer relief for the guilt of carting the 18-month-old down the east coast once again for our recreational whims.
We were thinking a little Matt Wieters or Adam Jones jersey. Instead, we found a different option for little girls: a pink, "Orioles Princess" onesie. And a smattering of other pink gear in the otherwise orange and black environment.
What? I exclaimed. There's no princess in baseball!
But of course, there is.
---